Shelter Dog Who Can Barely Lift Her Head Asks People Passing By To Pet Her
John Hwang is a photographer and animal lover who frequently visits shelters across Los Angeles to spend time with animals still waiting for homes. On one of his most recent visits, he met a sweet senior dog who he almost didn't notice — until she noticed him.
Hwang was walking through the
Baldwin Park Animal Shelter
when he passed by a 10-year-old dog, hunched over in the corner of her enclosure away from the fence, not moving at all. She looked so defeated, and though he felt for her, he assumed she would have no interest in coming over to him.
"My initial thought was this dog was timid or depressed and probably wouldn't interact with me," Hwang told The Dodo. "I was surprised when she came right up to me when she saw me."
As soon as she noticed Hawng walking by, the little senior dog came shuffling over to him, and he noticed that she had a slight tremor. It almost looked as if her body wasn't aligned correctly.
"She seemed uncoordinated, but the way she moved was also endearing," Hwang said. "She was so raggedy, but her heart was perfect."
The little dog tried to sniff and assess Hwang from a safe distance first, but only for a moment, and before long her body was pressed up against the fence, begging to be pet. Hwang of course began to pet her, and the pair sat there for quite some time, just enjoying being with each other.
"We probably could have sat there all day," Hwang said. "She loved the company."

Even though the senior dog appeared closed off and unfriendly at first, before long she had proved to Hwang just how much love she has to give. It just goes to show that you can't always judge a book by its cover — or a dog by how she feel about being in a shelter.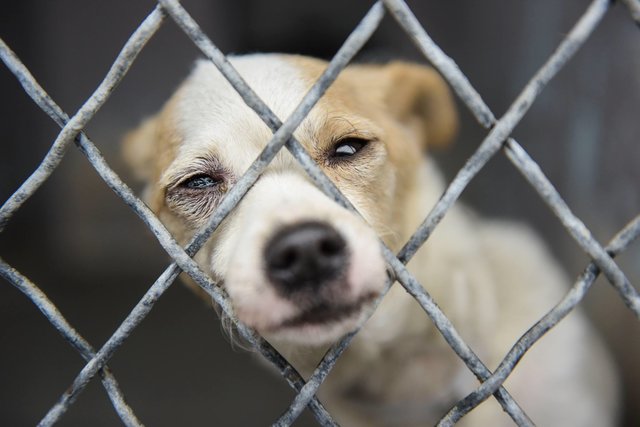 This sweet senior dog will be available for adoption on June 3. If you're interested in adopting her, you can contact the
Baldwin Park Animal Shelter
for more information. Her animal ID number is A5072256.
After Hwang visited Annabelle at the
Baldwin Park Animal Shelter
, he
made a Facebook post
about her with a few heartbreaking pictures, and people immediately began sharing her story, hoping to help find someone who could pull her out of the shelter. Annabelle was scared but still had so much love to give, and clearly just needed to right person to give her a chance.
And not long after Hwang posted on Facebook, someone finally did.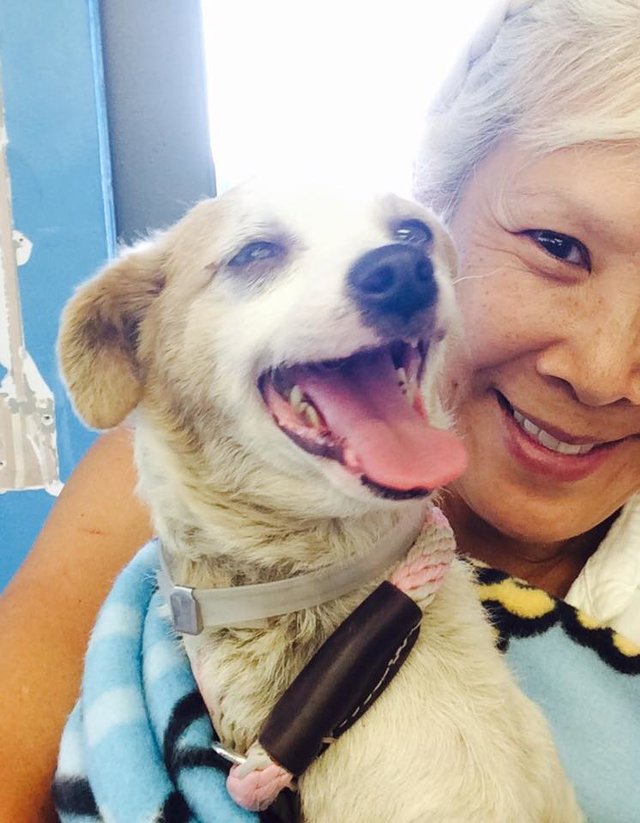 A volunteer with
Leashes of Love Rescue, Inc.
saw the post about Annabelle and immediately knew she had to help. She told staff at the rescue about Annabelle, and the next day they put a hold on her. The following day, they finally went to meet Annabelle and take her away from the shelter forever, and the sweet senior dog was so overjoyed to finally be out of her lonely enclosure.
"She was so excited and loving," Taunya Huffman Henley, president of Leashes of Love Rescue, told The Dodo. "She has a calm energy and loves to be held. When she gets excited she spins in a circle."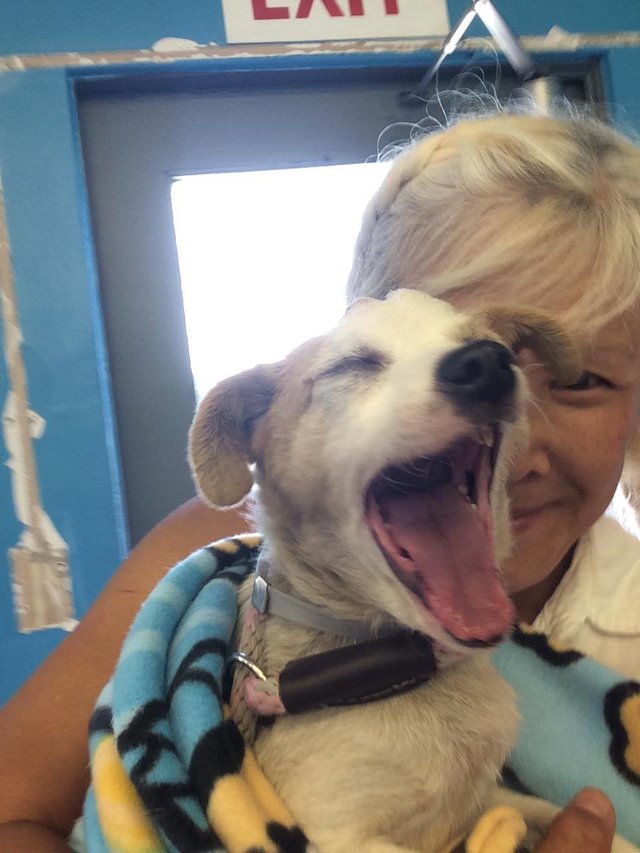 Annabelle was quickly taken to the vet, who unfortunately determined that she wasn't in the best of shape. She has a tumor on her head, an eye infection, dental issues and a skin irritation, and she's currently receiving treatment for all of these issues.
Annabelle is now resting and recovering in her foster home and loving every minute of it. For the first day and a half in her new home, she slept right next to her foster mom and refused to move unless her foster mom took her outside or offered her food. She has a few doggie foster siblings, whom she's slowly getting used to, day by day.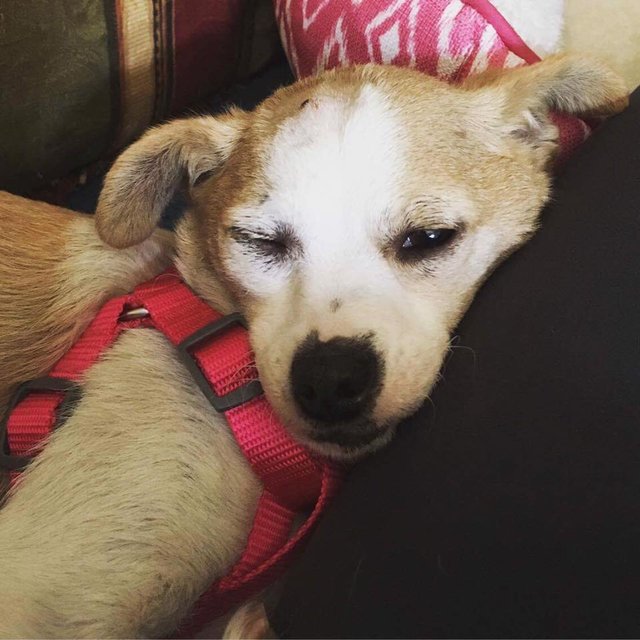 "She doesn't play with them much, as she is adjusting to her new surroundings, but little by little she is mixing in," Huffman Henley said. "We believe that once we get all of her vetting done she will feel much better. Her foster mom works from home so she mostly sits on her lap and wants to be carried everywhere."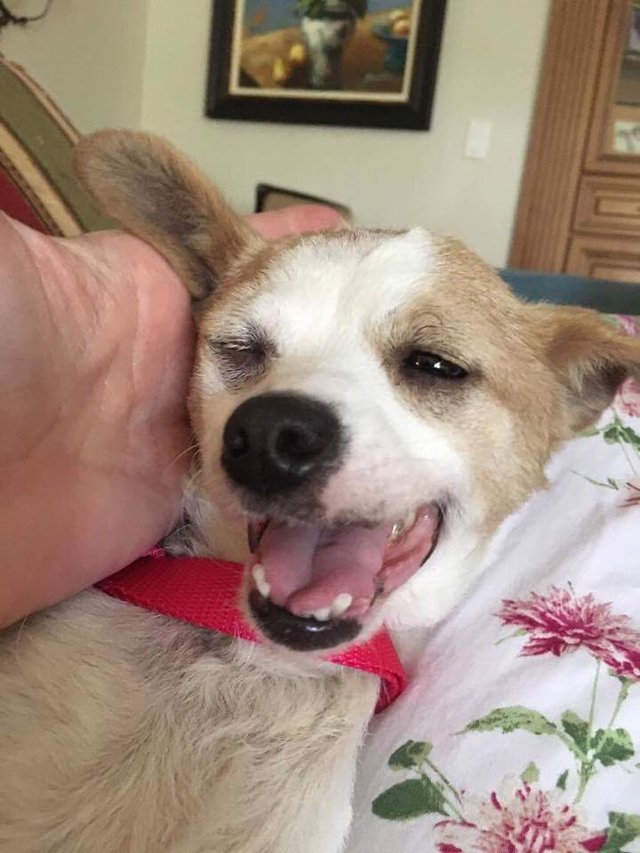 Annabelle went from being barely noticed in a big shelter to having lots of people who love and dote on her all day long, and she couldn't be happier about it. She may be a senior pup, but she still has so much love to give, and can't wait to find her forever home and a family to give all of that love to.